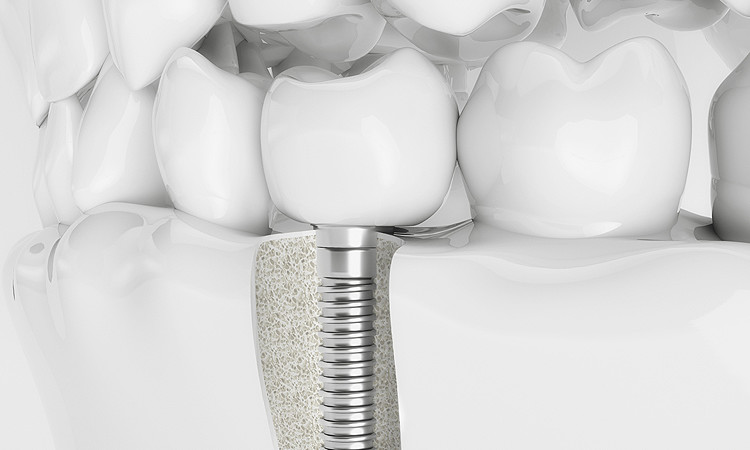 Around 70% of people in the UK aged between 35 and 45 years have lost at least one permanent tooth. It used to be the case that for those who wanted to replace these missing teeth they had no option but to get a fixed bridge, or use dentures. However the development of dental implants has introduced an excellent tooth restoration alternative.
What are Dental Implants?
A natural tooth root connects down into your jawbone. A dental implant works in a similar way by supporting one or more false teeth. A titanium screw acts as the tooth root and is inserted into your jawbone, fixing the false tooth securely. Dental implants have a success rate of over 98% making them a very safe dental procedure.
Misconception 1: "Dental Implants Hurt"
During your dental implant treatment you are under local anaesthetic so you do not feel any pain in your mouth. The dentist will also use 3D computer imaging technology to ensure that sensitive nerves are not touched.
Misconception 2: "I'm Too Old for Dental Implants"
When a dentist decides whether or not you are suitable for teeth implant treatment they measure the quality of your jawbone as well as your overall general and oral health. If your implant dentist deems that you fit the requirements then you will be able to undergo the treatment, regardless of your age.
Misconception 3: "I Smoke So I Can't Get Dental Implants"
It is believed that this misconception has arisen due to the fact if you smoke you will typically have to wait longer for your bone to osseointegrate with the tooth implant than non-smokers will. This however does not mean that as a smoker you cannot get dental implants. Your dentist will however typically advise you to quit smoking for about two weeks before and after dental implants are placed into the jawbone.
Dental implants are available at Number 18 Dental. Find out more here.
Get in touch
To find out how we can help you call 0207 792 2333 or complete our enquiry form...