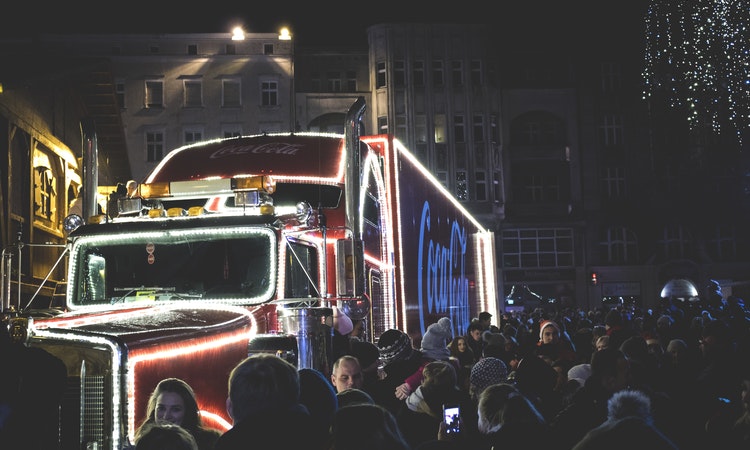 Christmas adverts help make the season special, and one in particular has been a favourite since it was first introduced in 1995.
Coca-Cola's Holidays Are Coming ad has led to the brand's famous red truck touring the country every December, dishing out free fizzy drinks to the public. But it seems change is on the horizon.
Backlash against free fizzy drinks
In 2017, Duncan Selbie, CEO of Public Health England, criticised the efforts of such marketing promotions that take place at this time of year.
He said that such actions by companies "does nothing to help families make healthy choices and wider efforts to combat childhood obesity and rotten teeth".
After all, "Sugary drinks contribute to childhood obesity and poor dental health".
But Selbie wasn't a lone voice. As many as 27 local authorities and 83 organisations and campaigners on health issues signed a letter calling for Coca-Cola to stop handing out free sugary drinks. The open letter was organised by Sugar Smart and received support from the British Dental Association, the Royal College of Paediatrics and Child Health and the Royal Society for Public Health, among others.
And it seems to have worked because following this objection, the brand has curtailed its nationwide tour. This December, the Coca-Cola truck will call at just 24 locations as opposed to 38 in 2017.
Not only that, Coca-Cola has said it is taking measures to ensure that around 90% of free drinks handed out are sugar-free and that drinks will only be distributed to children under 12 who are accompanied by a parent.
According to Jon Woods of Coca-Cola UK: "The actions we have taken as a business to remove sugar from our drinks and focus our marketing on the no sugar variants of Coca-Cola show we are committed to acting responsibly and playing our part in addressing some of the challenges [the campaigners] raise."
Though the PHE and our team here at Number 18 Dental would be keen to see only sugar-free drinks handed out, Sugar Smart UK admits that the success of the open letter "is welcome news that local authorities are turning their backs on sugary drinks promotions."
It also suggests the public's taste is becoming more receptive to sugar-free variations, which can only be good news for our teeth!
The misconception of sugar-free
Of course, just because a drink is sugar-free doesn't mean it isn't laden with sweeteners, which can perpetuate our cravings for something sweet.
We often forget too that fizzy drinks still harm our teeth by softening the enamel, making them susceptible to attacks by other foods we consume.
But we're no killjoys at Number 18 Dental. There's no harm in enjoying the odd soft drink, especially at this time of year. However, family gatherings, Christmas parties and endless celebrations mean we can often get into a cycle of overindulging on a daily basis, which you might be surprised to learn is enough to harm your dental health over the weeks of festivities.
Treat your teeth right by following these top tips
Enjoy your soft drink with a straw and consume at mealtimes
Drink still water after a sugary or fizzy drink
Don't brush until 30 minutes after consuming them (and always last thing before bed)
Opt for sugar-free versions where possible, including as mixers
Don't sip them!
For more advice, get in touch with us at our Notting Hill dental surgery.
Get in touch
To find out how we can help you call 0207 792 2333 or complete our enquiry form...