Dental implants are used to support single or multiple crowns and dentures. Dental implants replace missing tooth roots and are placed in the jawbone, like the roots they are replacing.
Dental implants are made out of titanium or a titanium alloy which is considered one of the most biocompatible materials.
What is a dental implant?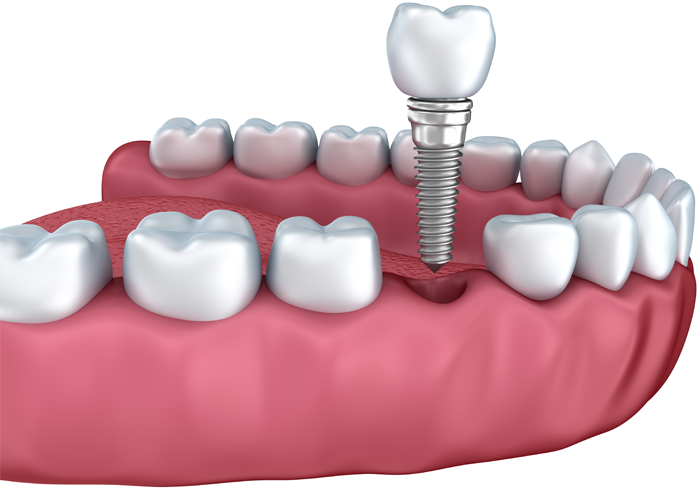 A dental implant allows for fixed space closure without damaging neighbouring teeth. They are a well-established treatment modality.
Teeth may have been lost through decay, gum disease or trauma. Implants provide a fixed replacement for missing teeth.
The implant consists of two parts: the implant itself, and the crown that goes on top:
The actual implant acts as the root of the tooth and is made from hardwearing, biocompatible titanium. This will become an integral part of your jawbone, through osseointegration. A process whereby your own bone grows around the implant surface
The crown is the part of the implant that looks like one of your teeth. It's made from porcelain fused to metal, and is colour and shape matched to the rest of your teeth for a natural appearance
Dental implants process
Firstly, your dentist will carry out a full, thorough dental examination, and deal with any cavities or gum disease to establish healthy conditions. Then, in preparation for the dental implant placement we will:
Assess bone quality and quantity using X-rays and sometimes a CT scan
Plan implant placement as a surgical procedure usually under local anaesthetic but with the option of being sedated
Implant placement is carried out and is usually perceived more comfortable than a tooth extraction. You will be provided with painkillers and antibiotics during the healing period
Sometimes, at the time of implant placement or beforehand, to compensate for a hard or soft tissue defect and to augment deficient sites, you will require bone / soft tissue grafting
The gum will then be closed, and left to heal for about 3-9 months, to allow your own bone and or any graft material to grow around the implant surface. During this time the implant becomes an integral part of your jawbone
Following the healing period, impressions (moulds) are taken by your dentist and a crown / bridge/denture is created by the dental laboratory which is screwed or cemented onto the underlying implants to give you your "teeth" back
Benefits of dental implants
Implants are a safe, well-established treatment modality
A secure, fixed option to replace missing teeth without involving / preparing neighbouring teeth; an alternative to loose dentures
A long lasting replacement option
You can have any number of teeth replaced with implants – from one single tooth to a complete set of teeth
Dental implants FAQs
Will my implant be noticeable?

Every effort will be made when it comes to creating implant crowns and bridges or implant retained dentures to make them look as natural as possible. We will work very closely with the dental laboratory at this stage to match colour and shape of your implant supported restorations to your natural teeth.

Are implants strong?

As the implant, which acts as the root of the tooth, is made from titanium or a titanium alloy, dental implants are considered to be very strong. Titanium is a biocompatible material, and will become osseointegrated by your jawbone, i.e. become an integral part of your bone structure.

How long do implants last?

You can expect dental implants to last for many years, but as with any dental solution, this depends on aftercare. Attending regular maintenance and hygiene appointments is paramount. If your implants are well looked after, and if the bone they are fitted to is strong and healthy, you can expect them to last for many years. However, just as with other surgical implants (hips, knees), there is no lifetime guarantee.

If I had gum disease when I had my own teeth, will I get it with the implants?

Yes, if you don't care for them well enough. If you keep them clean and have them regularly checked by your dentist and Hygienist you should be able to avoid any problems. If you don't look after your implants they will develop a coating similar to that found on natural teeth. Left untreated, this can lead to gum infection, bleeding, soreness and discomfort.

Are implants difficult to clean?

No. But aftercare is paramount if you are going to have a long-lasting, successful implant. Cleaning and brushing around crowns/ bridges attached to implants can be more difficult than cleaning around natural teeth. We will give you clear instructions how to maintain healthy gums around your implants and would want you to visit the dental hygienist very regularly to support excellent oral hygiene at home. More and more studies are showing if gums around implants are not maintained to a high standard problems can occur and in extreme cases lead to implant complications.