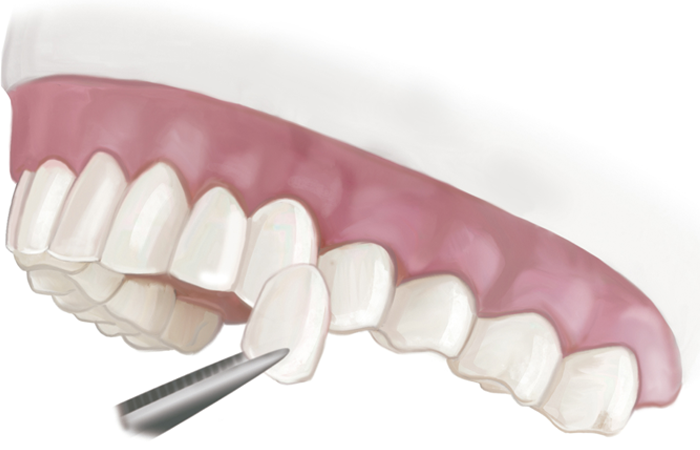 A dental veneer is used to treat a number of issues, including worn or chipped enamel, misaligned teeth, as well as to cover up miscolouring or dark areas.
Dental veneers are sometimes compared to the way a false nail fits over a fingernail, and are a great way to get a beautiful smile back.
We provide both composite and porcelain veneers.
Dental veneers process
During your initial consultation we'll assess your suitability for dental veneers. If you're suitable, we'll discuss which option is most appropriate for you – composite or porcelain veneers.
At your first appointment your tooth will be prepared and an impression taken for your dental veneer to be made by a specialist laboratory.
On your second appointment your dentist will demonstrate the veneer in place to make sure you are happy. If you're happy the veneer will be firmly bonded into place with adhesive.
Benefits of dental veneers
Little tooth preparation is needed
Veneers are thin and unobtrusive, yet strong for good results
When fitted, veneers are made to blend in with the rest of your teeth
Dental veneers FAQs
Are veneers suitable for me?

Veneers are used to treat a number of common dental issues, including worn or chipped enamel, heavily filled or slightly misaligned teeth, as well as to cover any severe discolouration. Your dentist will be able to discuss this on an individual basis, and advise the best treatment for you.

What type of aftercare do veneers need?

As well as maintaining good oral health we recommend regular hygienist and dental appointments to ensure the longevity of your veneers.