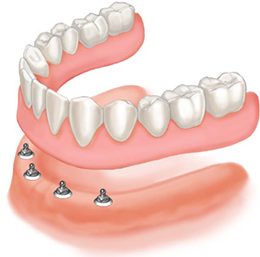 Denture technology has improved, meaning dentures are now a viable option for tooth loss. They are removable too, making them easy to clean.
Dentures may be a necessary step for those who have experienced tooth loss due to tooth decay, gum disease or even dental trauma.
We use both acrylic or chrome cobalt dentures for either full or partial set-ups (replacing a full set of teeth upper or lower teeth, or replacing part of your full set of teeth), depending on how many teeth are missing. Your dentist will discuss the most suitable option for you.
Dentures process
The treatment usually consists of several appointments:
In the first appointment, your dentist will provide a full consultation, in which time they will assess your suitability, and diagnose any extractions, tooth decay or gum disease which will need to be treated before denture treatment can commence
Over the course of the next few appointments, records will be taken and the final dentures fitted. You will then be given advice on how best to care for both the dentures and adjacent teeth or soft tissues supporting them
Benefits of dentures
Dentures make it easier to chew and talk, particularly in the case where lots of teeth are missing
Prevents tell-tale sagging of the face, by reinstating false teeth into the mouth
Creates an aesthetically pleasing finish where teeth are missing
Dentures FAQs
Will dentures improve my speech?

In many cases, particularly with patients who are missing a great deal of teeth, dentures can greatly improve speech. It may take a little getting used to, but you will find your clarity and enunciation improves naturally.