A dental bridge is a restoration that replaces a missing tooth using an artificial tooth that's supported by the neighbouring teeth.
The artificial tooth, or teeth (called a pontic) is made of tooth-coloured porcelain, alloy or gold, or a combination of these.
Dental bridges process
A dental bridge procedure usually consists of a consultation and two appointments.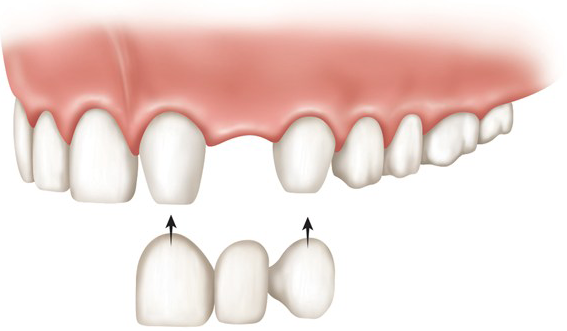 During your consultation your dentist will discuss the options available to you, and assess whether or not a dental bridge is the the most suitable option to replace a missing tooth.
During your first appointment we will prepare your neighbouring teeth to accommodate bridge abutments supporting the bridge, take impressions (moulds) and colour match for the future bridge. In some cases you may have to visit the dental laboratory to meet the dental technician for a shade visit. Where possible we will also fit a temporary bridge.
On your second appointment we will remove the temporary bridge, check the fit and appearance and cement your bridge in place.
Benefits of dental bridges
A bridge is a fixed restoration cemented to neighbouring teeth and is not removable
A dental bridge closes the gap of a missing tooth
Dental bridges FAQs
Will the procedure hurt?

Your dentist will use local anaesthetic to ensure the procedure is as comfortable and pain-free as possible.

What should I do between the two appointments?

In your first appointment, a temporary bridge will be fitted to allow you to eat normally. However, you should be mindful of this and where possible avoid eating excessively hard foods, and taking extra care when chewing foods.

Will my bridge be noticeable?

Providing you opt for an option which blends with your teeth, such as tooth-coloured porcelain, it will be colour-matched to the rest of your teeth. We will do our best to ensure a good match to neighbouring teeth.