A dental inlay or onlay covers part of the tooth surface. They are ideal where a filling is not an option due to lack of tooth structure and a crown is unnecessary.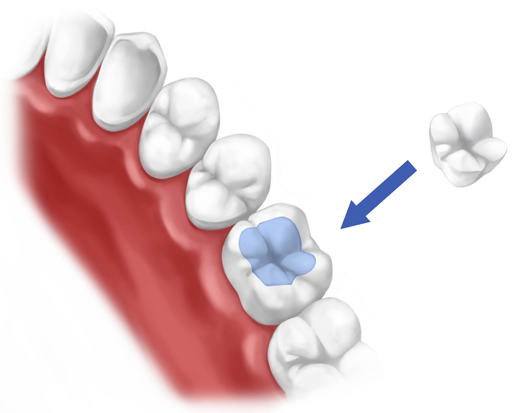 Dental inlays & onlays process
An inlay or onlay will take two appointments to place. In the first appointment, your dentist will prepare your tooth, take impressions and fit a temporary inlay or onlay over the tooth.
In the second appointment, your new inlay or onlay will be functionally and aesthetically assessed. Provided the fit and appearance is good it will then be bonded into place.
Benefits of dental inlays & onlays
Inlay or onlay material is matched to other teeth, providing an aesthetic finish which blends with the rest of your smile
Inlays & onlays come in a choice of materials – porcelain, composite or metal
Inlays & onlays are a conservative treatment option which can be changed to a crown in the future
Dental inlays & onlays FAQs
Is a dental inlay or onlay for me?

Both procedures are used when there is a lack of tooth structure to support a directly placed filling. Where there is less tooth substance available, a full coverage dental crown will be indicated.

Is an inlay or onlay visible?

With state of the art technology, the composite or porcelain material used will be colour matched to the rest of your teeth, ensuring a discrete finish.