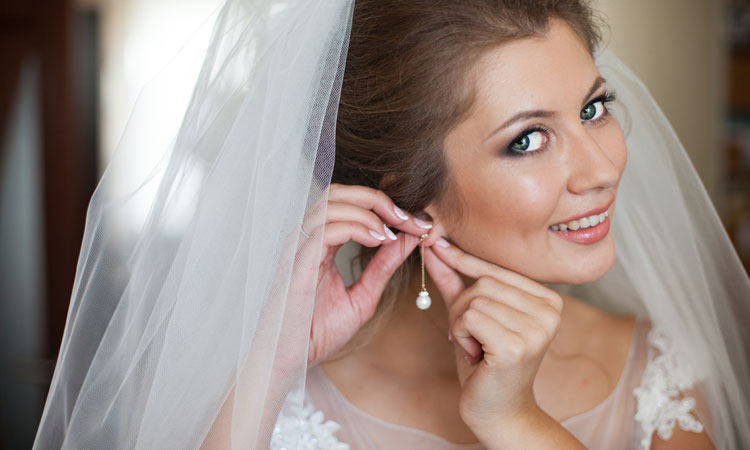 The day is exactly how you had wanted. Your wedding day, the happiest day of your life. Then your wedding photographer says "smile" and you begin to feel your happiness drain.
Having a discoloured or misaligned smile can affect your confidence. In many situations you may avoid smiling with your teeth, or avoid cameras completely. However your wedding day is different. It is a day you will want to have a great collection of photos to look back on. And your smile is all you will be able to notice if you are conscious of your teeth.
Your smile doesn't have to ruin your wedding day
This situation can be easily avoided with cosmetic dentistry. Cosmetic dentistry has developed greatly over the past number of decades. There are now dental procedures to fix pretty much any issue or issues you may have with a tooth or your overall smile from gaps to gum recession. Getting your dream smile is no longer a pipe-dream and what better time to invest in improving your smile than your wedding day?
Start at the engagement
Having dental treatment too close to your wedding day, especially with an unqualified dentist, gives you little leeway if something was to go wrong. It is best to book cosmetic dentistry treatments with as much time as possible which is why after your engagement can be a great time to book a consultation. This way you will have enough time to discuss and decide options and get used to your smile, whilst also helping with more practical issues like budgeting.
Find the right cosmetic dentist
There are a number of issues which can affect the outcome of your dental treatment, including the condition of your gums, existing fillings or crowns and how straight your teeth are. It is important that regardless of which treatment you decide on you find a cosmetic dentist who you feel comfortable with, is properly qualified and is patient. Your dental health isn't something you should get a cheap deal on and taking time to visit a few dental practices is a much safer option.
Pick the right cosmetic dental treatment
Regardless of what the issue is with your teeth your dentist will be able to advise you on the best dental treatments to improve your smile for your wedding day. A good cosmetic dentist won't rush you and should make you aware of any potential issues or problems. During your consultation you should ask your cosmetic dentist as many questions as you can to understand their quality of care and knowledge. Most cosmetic dentists will be up-to-date on the latest dental techniques and materials so if there is a particular treatment you are interested in make sure to ask.
Teeth whitening for a whiter wedding smile
People always want a brighter smile which is why teeth whitening is the most common pre-wedding day dental procedure. Whilst you may want to get the treatment a few of weeks before the big day you should begin searching for the dentist available earlier than this so you do not end up rushing the decision in the end. There have been a number of news reports about unqualified teeth whitening treatments which can badly damage teeth. Avoid potentially harming your dental health by opting for a qualified dental professional.
Orthodontic treatments to straighten your teeth
Orthodontic treatments are not just for children. If you are put off by heavy silver train-track braces then you might be unaware how far braces have come. Nowadays orthodontic treatments include functional, fixed and removable appliances, some of which are completely undetectable. They can be used in a number of different ways to cure a variety of issues from gaps, over-crowding from wisdom teeth, misalignment or tooth pressure. The teeth straightening solutions available today can re position your teeth into a straighter and healthier position. With treatment requiring anywhere from six weeks to 18 months it is a good idea, like already advised can you sense a theme? to book your dental consultation early on to make sure you are giving yourself enough time to full adjust your smile.
A complete wedding smile makeover?
There are, of course, more dental options available to fix your smile. Nowadays it is even possible to combine these techniques to provide a complete smile makeover. If you have previously neglected dental care or suffered trauma or damage then a smile makeover might be the perfect solution. Combining different dental procedures your dentist will put together a plan to give you a straighter, brighter smile. From crowns to veneers to teeth whitening, your dentist will be able to give you the timeline and breakdown of treatments you require.
Dentists today can even take impressions of your teeth and create wax mockups on models to show you what the dental treatments will look like before your undergo any treatment.
Number 18 Dental cosmetic dentist in Notting Hill
If you are engaged or planning to get married in the future, cosmetic dentistry might be what you need to make your day even more special. At Number 18 Dental our practice partners, Dr. Claude Ashmore and Dr. Michael Rosenzweig have experience in cosmetic dental treatments. We pride ourselves on our communication skills and ability to provide complex, professional care in a warm and inviting practice.
Get in touch
To find out how we can help you call 0207 792 2333 or complete our enquiry form...