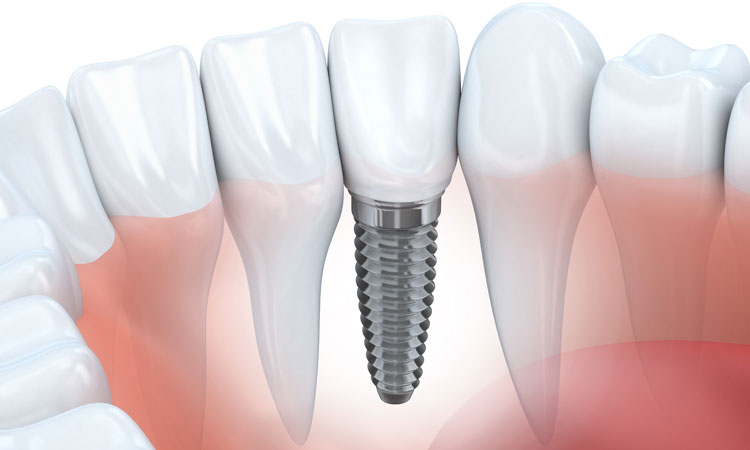 Not being able to smile properly due to lack of confidence can cause stress in social situations and make it difficult to interact with people properly. You may also find that daily tasks such as eating can be more painful with damaged teeth.
A dental implant from Number 18 Dental could be the solution you are looking for to completely transform your life, allowing you to enjoy even the toughest of foods without hesitation and restoring confidence in your smile.
What are dental implants?
Dental implants are a cosmetic dentistry treatment that work by inserting an artificial tooth root into the jawbone. This tooth root is then used as a foundation to insert a bridge or crown which is visible above the gum line. They are designed to be fit in with your natural teeth and are the dental procedure that offer the closest option to restoring your own natural teeth. You may have lost or damaged teeth due to previous poor dental care or dental treatment. Alternatively you may be looking for a more permanent alternative or replacement to dentures. Dental implants provide a solution to all of these problems.
Dental implants allow you to enjoy your favourite foods
Precautions must be taken to ensure the transition goes smoothly after surgery. The most ideal way to conduct your dietary lifestyle for the first week after surgery is to stick to soft foods and carefully progress to harder and chewier foods afterwards. If you have damaged or missing teeth you may have been avoiding eating some of your favourite foods as they are too difficult or painful to chew. After a tooth implant, you will notice that after time the inside of your mouth feels relatively normal again, allowing you to be able to enjoy all of your favourite meals again.
Dental implants restore your confidence
Not only will dental implants make everyday tasks like eating more comfortable and enjoyable, but your appearance will also be significantly improved. Having a poor set of teeth can easily cause you to cover your mouth, shy away from photographs or avoid expressing happiness at all. It is easy to be embarrassed about your smile when your teeth are either deformed or missing, and this can have a negative effect on your self-esteem. Dental implants can provide an answer to this simple problem, allowing you to smile with confidence again.
Lifelong dental companions
Unlike bridges and dentures which need to be replaced every few years, dental implants are are a long term teeth replacement solution which will remain with you for life. Unlike dentures, dental implants will not slip around and they do not require augmenting healthy teeth, which is often required with dental bridges. Instead, they provide you with one of the most reliable, natural and easy to maintain dental solutions and can be treated as part of your existing dental hygiene routine.
Get in touch
To find out how we can help you call 0207 792 2333 or complete our enquiry form...