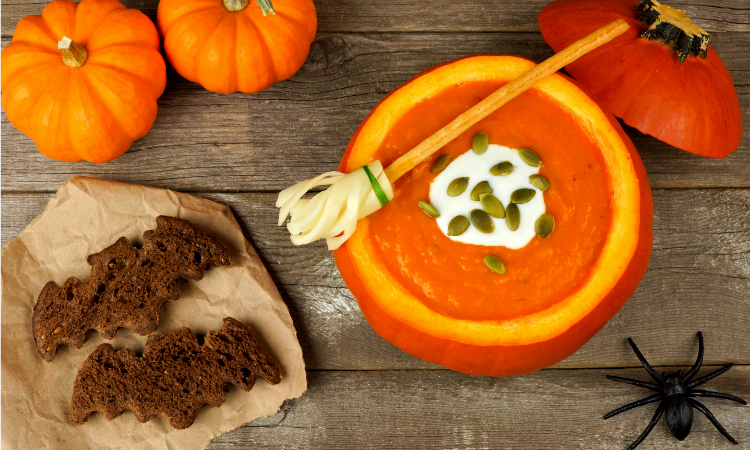 Who doesn't love Halloween? It's the perfect time to gather round in front of the fire and tell ghost stories.
But there is another scary side. Did you know that in 2014, a survey conducted in America found that emergency visits to the dentist rose by 80% on 31st October?
We reckon there's enough to be spooked about on Halloween without your teeth being one of them. So if you don't want to fall prey to the tricks of those Halloween treats, check out our fang-tastic tips!
Trying to deny your kids their lollies and sweets probably won't make you their new best friend! But you can easily substitute treats around the home with sugar-free sweets and diabetic chocolate. Plus, did you know high-cocoa dark chocolate is lower in sugar and high in antioxidants? That makes it a healthier alternative to milk chocolate. High five!
After you've finished carving your pumpkin, why not boil down the fleshy insides to make a delicious witch's brew of pumpkin, tomato and kidney bean soup? This healthy and hearty meal is ideal for cold autumn nights trick-or-treating and means you're less likely to indulge before bed. You can make it extra spooky by adding Halloween-shaped wholemeal croutons using themed cookie cutters. And don't forget a few cloves of garlic to keep those vampires at bay!
Staying in for a night of scary movies? There's inspiration across the web for healthy Halloween snacks. From spooky ribcage salad arrangements made with sliced peppers and shredded lettuce to witch's fingers hotdogs with a devilish salsa dip – you'll find plenty to sink your teeth into!
Fizzy sweets and drinks can leave more than just a sour note in your mouth. Because they contain citric acid, they can be more harmful to the teeth than sugar alone. Easy switches include swapping fizzy sodas for no-added-sugar cordials and milkshakes.
Finally, an excuse to let your kids gobble down their treats! It's actually better for teeth to be exposed to sugar all at once instead of constantly throughout the day, so why not try and encourage them to save their hoard till November 1st, then let them eat it all in one go? Heading out for a family walk afterward is a great way to burn off the extra energy!
Expecting trick or treaters? Consider handing out little packs of balloons or pocket games instead of sweets. They're more fun, plus their parents (and dentists) will thank you!
Adult Halloween parties are a great chance to let your hair down! But if you're concerned about fizzy and sugary alcoholic drinks, then opt for fruit-based punches over sodas and sparkling wines. Drinking a glass of water or chewing gum is also a simple and effective way to neutralise the sugars in your mouth!
Ever enjoyed a late-night scare fest and been tempted to go to bed without brushing your fangs? You're not the only one! So why not make up the family's toothbrushes with toothpaste in advance? That way, half the job is already done!
Halloween is just one night a year, so we want you to have a great time celebrating with your loved ones. And with our healthy tips, it's easy to keep the whole family smiling!
For more advice on looking after your children's teeth, check out our blog post. Or contact us to book your next check-up.
Get in touch
To find out how we can help you call 0207 792 2333 or complete our enquiry form...