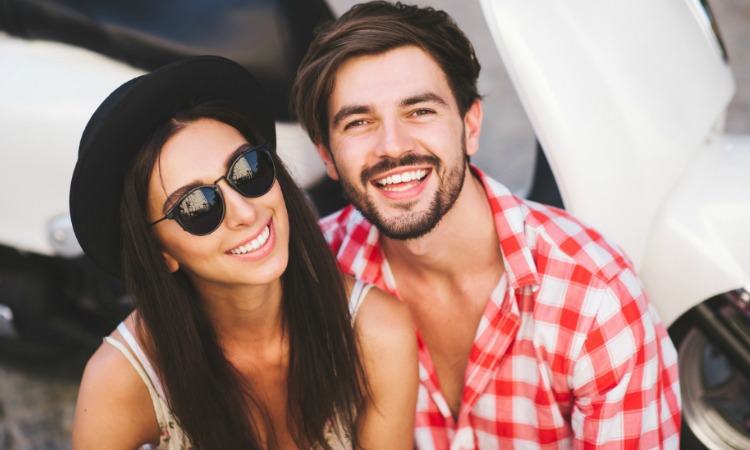 Over a quarter of people don't like smiling because of how their teeth look.
Whether it's bad habits, years of neglecting your dental hygiene or you were born with misaligned teeth – your smile can really affect your confidence.
If you're less than enamoured with your enamels, there are some procedures that can help. From replacing missing teeth to correcting a 'crooked' smile or simply giving them a spring clean – here's a quick rundown of our most popular solutions to some common dental problems.
Missing & broken teeth
Had to have a tooth removed and now you hate the gaps you see when you look in the mirror? Dental implants are just one of many solutions which can provide a natural-looking and feeling smile.
This modern alternative to dentures is a more secure and comfortable option. It involves inserting a titanium post into your jaw and affixing a porcelain crown to it, moulded to your teeth. You can be fit with a full set or just a single tooth.
Alternatively, if you have had a lot of work done to specific teeth, you can opt for white fillings. These aren't only less noticeable than amalgam (metal) fillings, they're also less prone to sensitivity.
If you have a broken tooth which can't be filled or need a root canal, a dentist will suggest a crown. This means filing down your remaining tooth into a post on top of which a crown (or replacement tooth) made from porcelain or amalgam will sit.
Crooked teeth
There is a range of teeth straightening treatments to help combat crooked teeth.
Ceramic braces are a more traditional, cost-effective method where only coloured brackets are visible. Or for a more discrete way to straighter teeth, Incognito Hidden Braces and Invisalign methods help to realign teeth with a 'hardly there' look.
The Inman Aligner is another popular method because it is not only barely visible but also removable, and it can be used to combat conditions such as cross-bites and overcrowding.
Uneven teeth
When you've got misaligned or chipped teeth, you might want to opt for veneers. This is the treatment of choice for many celebrities to transform less-than-perfect teeth into a stunning, pearly white smile.
Veneers are a little like a false fingernail in that they're a quick and effective way to cover up imperfections. A thin yet durable shell made from composite or porcelain, they are moulded from an impression of your teeth and are fixed onto your tooth's surface with a dental adhesive.
Discoloured teeth
Stains develop naturally as a result of our lifestyle choices, diet and also because of poor dental hygiene.
Professional teeth whitening is a safe way to return your teeth to a lovely shade of white, and you can opt for in-practice or at-home treatments which do the job in as little as ten days.
Those with severe discolouration can even try veneers to achieve the same brilliant white smile.
Smile with confidence
If you've ever wanted to improve your smile, why not book a consultation? Our friendly and highly experienced dentists in our Notting Hill dental surgery carry out all these treatments and more on a daily basis. Contact us today and feel confident to smile again.
Get in touch
To find out how we can help you call 0207 792 2333 or complete our enquiry form...