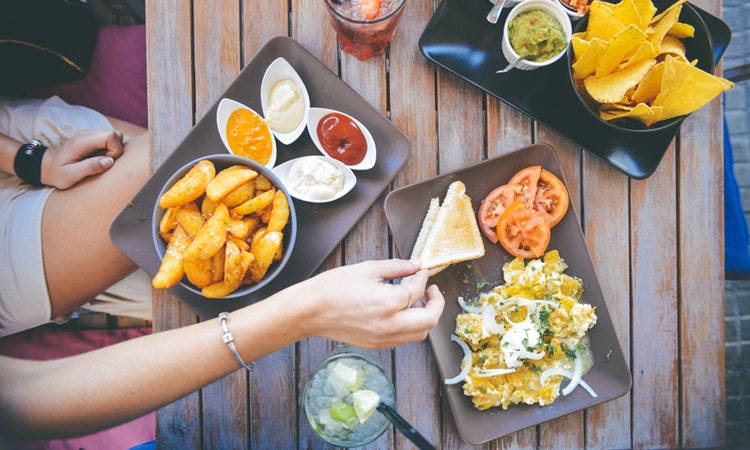 We might have already been treated to a heatwave, but many of us are hoping the sun lasts well into the summer holidays! After all, nothing feels as good as firing up the barbie on a sizzling July day and inviting all your mates round.
But whether you're hosting or heading out to a summer party over the coming months and want to keep your pearly whites sweet, what foods should you plum for and which should you avoid?
Summer foods that are good for your teeth
Crunchy veg
Think salads with plenty of watery or leafy ingredients, corn on the cob and carrot and celery sticks to munch on – all of which will help clear away plaque from your teeth and strengthen your gums!
Fruit kebabs
A twist for those really hot days – not to mention totally tropical: get kebab skewers and add slices of crunchy, watery fruits like apples, pears, pineapple and strawberries. They'll hit that craving for sugar while helping to remove plaque. And pineapple and strawberries contain ingredients that naturally whiten your teeth!
Say cheese!
Adding mozzarella to your salad, feta to your burger or just chowing down on a healthy bowl of natural yoghurt and strawberries is a great way to satisfy those cravings for comfort food while boosting your calcium intake, strengthening your enamel and helping you avoid starchy carbs and sugars.
Ginger
Fresh ginger might not be your typical BBQ food, but grated over a salad it can add some oriental flavour and warmth. Plus, it has anti-inflammatory properties that can aid the growth of new gum tissue.
Onions
You might be surprised to find that onions are a great way to neutralise any acid in your mouth that leads to a build-up of plaque and so cavities and gum disease. Whether you add them to your salad, burger or hotdog, they're a great choice!
Sugarfree chewing gum
Which brings us to our next point. Overindulged on the onions? Chewing on sugarfree gum can not only freshen your breath but increase your saliva production, removing food particles and neutralising any acids. If you suffer from sore or stiff jaws, opt for softer varieties rather than the caplets.
Fruit-infused water
Instead of fizzy drinks and summer cocktails, why not 'shake' things up with milkshakes blended with real fruit? Or even better, opt for water infused with fresh ingredients such as lime, strawberries and mint.
Summer foods that are bad for your teeth
Banish the bread!
Buns might be what we typically think of serving up hotdogs and burgers in, but in actual fact, they break down into sugars in our mouth to raise plaque levels, slowly eating away at our enamel. Plus, the seeds on these rolls can actually get lodged between teeth! Try switching to wholemeal varieties, pittas or wraps which are lower in starch, or even just do away with the bread altogether and enjoy an on-trend naked burger with all its toppings and a delicious side salad.
Chips and crisps
By the same token, chips and crisps are full of starch which breaks down into sugars. Also, hard crisps break up into little pieces that can get lodged more easily between teeth and even aggravate gums. Though they might sound like they would be bad for your teeth, sweet potato fries are actually better. They're higher in fibre as well as high in vitamin A and keratin for strong enamel and gum tissue.
Salad dressings & condiments
You might not think anything of drizzling BBQ sauce on your burger or French dressing on your salad. But actually, most sauces and condiments contain added sugar as well as vinegar or citric acid – all of which can soften your tooth enamel, increase bacteria and lead to cavities. Delicious, more tooth-kind options include olive oil, avocado oil and walnut oil.
Anything tangy!
From citrus fruits to fizzy sweets, you'll find they are all high in citric acid which, combined with sugar, is a high risk for your teeth. Anything pickled, too, is soaked in vinegar, which can attack your tooth enamel leaving it soft and more susceptible to sugars.
Juice and fizzy drinks
You might expect these to be high in sugar, but the carbonation also weakens your tooth enamel. This also goes for alcoholic drinks like Prosecco, diet sodas and even fizzy water. Try our fruit-infused water alternative above! It's delicious, fresh and a better option for your teeth.
Cold as ice!
Ice creams, sorbets and ice drinks are never a great option if you have sensitivity. Even if you don't, you might well soon as extreme cold can damage your tooth enamel and even lead to tiny cracks or fissures appearing. Plus, it goes without saying they're usually full of sugar! What about if the temperatures are soaring? Just try to avoid crunching ice – if you must, suck on ice chips instead.
Get in touch
To find out how we can help you call 0207 792 2333 or complete our enquiry form...