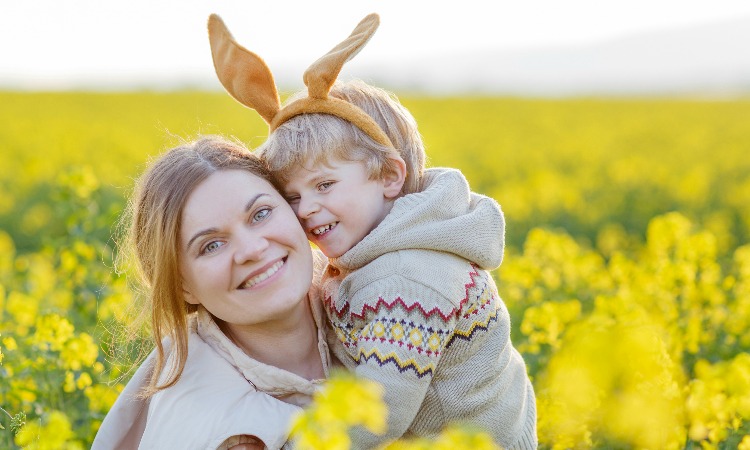 As spring approaches, it can feel as though it's one celebration after another. Pancake Day, Valentine's Day, Mother's Day and now Easter – all these occasions mean chocolate is everywhere we turn, which can be hard if you are trying to cut back on sugar.
We might be dentists but we're humans too. There's nothing wrong with enjoying a little chocolate, so long as you keep your oral health in mind. So we've put together our top 5 tips for you to crack Easter, without it cracking you!
Respect Easter Sunday
Easter eggs might be in the shops from Christmas, but you can keep Easter special by keeping the eating of these treats to Easter Sunday. This makes chocolate a reward for you and your family. It's also best to eat your chocolate all in one go, which minimises the time sugar stays on the teeth, preventing tooth decay.
Go dark
Opt for chocolate with at least 70% cocoa as dark chocolate typically contains less sugar than milk chocolate. Some studies have also found that dark chocolate contains antioxidants, which may have an anti-bacterial effect on the build of plaque. However, dark chocolate still contains sugar! So stick to consuming it only once in a day and take precautions after eating.
Chew gum
There are several ways to prevent tooth decay in between twice-daily brushing. Drinking water after eating your eggs will help remove any leftover chocolate. In addition, chewing xylitol or sugar-free gum after eating, or rinsing with fluoride mouthwash, can reduce acidity.
Go low
Low or zero-sugar chocolate eggs are ideal for those with diabetes or on a paleo diet. There are many delicious ranges available from supermarkets, health shops and chocolatiers, so be sure to 'hunt' around!
Alternative Easter treats
Easter isn't just about chocolate. In fact, there are many ways to enjoy the holiday without it, such as egg painting, days out with the family, or exchanging toys instead of eggs. But if your child loves the sweet stuff, stick to treating them to a small Easter egg or sugar-free sweets instead.
We want you to enjoy Easter with your family without worrying about tooth decay. If you have any questions about you or your child's oral health, contact us at Number 18 today.
Get in touch
To find out how we can help you call 0207 792 2333 or complete our enquiry form...