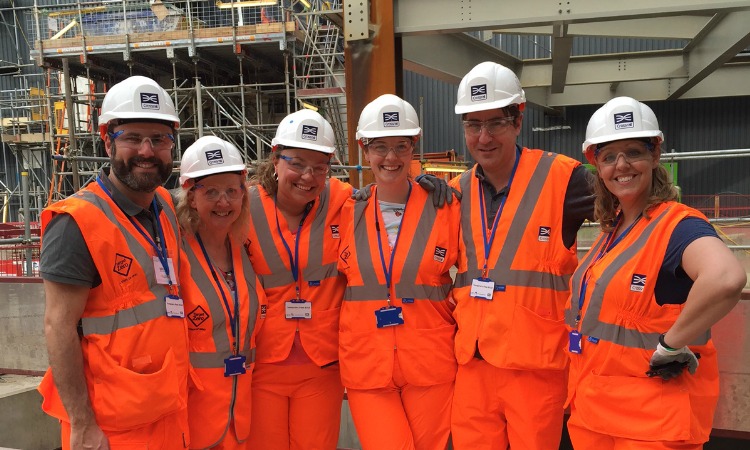 It's not every day you get to explore the deep cavities of a major engineering project.
But that's what the Number 18 team did when they donned their hard hats for a check-up on the Crossrail project set to improve London travel.
And they found that it all looked very familiar. After all, they're used to carrying out major work with minimal disruption – it's what they do every time they get to work on your mouth!
Preserving and restoring your smile
This process is called Minimally Invasive Dentistry and our dentists are specially trained in it. Much like the Crossrail project, it means effectively tackling the problems while restoring and preserving the old structure of the tooth.
Where Crossrail works have been taking place at the New Paddington Yard, the remains of a turntable and workshops thought to belong to the great engineer Isambard Kingdom Brunel were recently discovered. But instead of digging them up, the engineers photographed them before building on top, carefully preserving their structure for future study.
This is the same principle our dentists use when they assess any damage in your mouth. Thanks to scientific advancement, microdentistry means we never remove more of the tooth than is necessary.
Minimally Invasive Dentistry and tooth decay
If you have evidence of tooth decay, we might use methods such as air abrasion or remineralisation to treat the problem. For more extensive cavities, we will fit a small composite (a white filling which blends with your smile) while keeping as much of the original tooth as possible.
Because we try not to touch any other parts of the tooth structure, you shouldn't need to keep coming back for any problems as a result in the future. And of course, your smile looks a lot better too!
Another example of Minimally Invasive Dentistry we carry out is fissure sealants, an ultra-thin plastic coating which is usually applied to children's teeth to prevent decay.
We minimise disruption
You'd hardly know 26 miles of rail tunnels are being dug across London, right beneath your feet. And we like to think you'd hardly notice when we repair the old structures of your teeth, improving your oral health for the future.
So you don't need to worry when you book a check-up with us at Number 18 Dental. We're not drill-happy – we get to the root of the issue to ensure you leave smiling.
Get in touch
To find out how we can help you call 0207 792 2333 or complete our enquiry form...