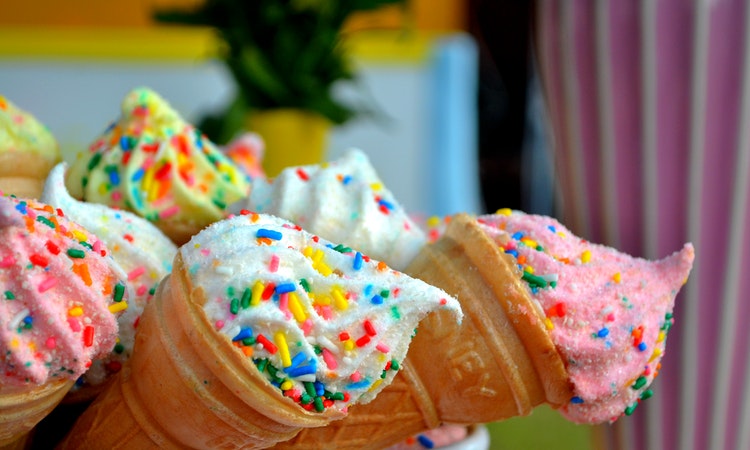 School's out – and it seems so are the rules on dental care!
A recent survey polled 1000 parents of 2 to 17-year-olds and found that one third admit to letting their children consume as much as five times more sugar over the summer holidays than at other times of year.
While a quarter said their child eats considerably more sweets during the summer, eight out of ten parents expressed worry about the level of sugar consumption.
The sugary foods favoured by our kids
So besides sweets, which sugary foods do our kids guzzle down more than any other? Sugary drinks top the list, as well as ice cream.
But sugar isn't always clearly labelled.
For instance, some parents might think they're providing healthy snacks in the form of cereal bars and dried fruits, smoothies and other popular foods like coated popcorn.
And then there are the trendy new products that are also excessively sweet, like frappuccinos and freak shakes. Packed full of sugar, it's hardly surprising these are often favoured by the younger market!
All in all, kids could actually be consuming more sugar than we realise.
Keep your child's teeth sweet
With four out of ten parents saying they occasionally forget to check if their child has brushed, all this can pose a potential nightmare for youngsters' developing teeth.
While summer holidays are certainly a time for the odd treat, here are 7 quick tips to help your child's dental health stay on track:
Always check your child has brushed their teeth, both in the morning and last thing before bed. If the lack of a schedule makes this hard, ask their babysitter to double check or try to make an effort to brush as a family.
Try to provide yummy but filling breakfasts and lunches to keep the need for snacking at bay: think oats, eggs, multigrains and whole wheat.
Restrict sweet treats to once a day just before or after a meal.
Serve plain milk or water with every snack.
Don't have 'reserves' in the cupboards that are likely to be decimated by the time you get back from work! Keep things like healthy yoghurts, whole wheat breads, crackers and cereals, snack-size cheeses, chicken satay skewers, apples, strawberries, veg sticks and sugar-free juices instead.
One fifth of parents think the excessive sugar consumption of their kids is down to being bored, so consider planning more engaging activities around the home and family days out – even if it's just a walk, cycle ride or picnic.
Book a family dental appointment in Notting Hill with our team at Number 18 Dental. Summer holidays are the best time to get a check-up so your child doesn't have to miss school!
Get in touch
To find out how we can help you call 0207 792 2333 or complete our enquiry form...