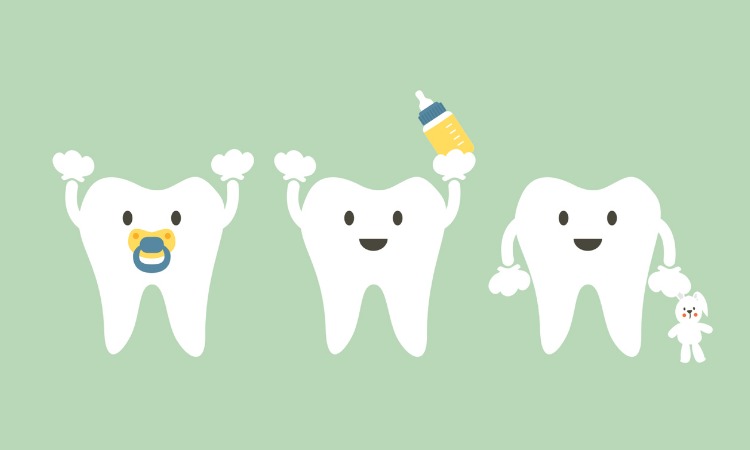 We all know how important it is to look after children's teeth as early as we can. So with the first National Weaning Week taking place from 7-13th May, we thought we'd give some advice to mums about how to care for your baby's teeth when weaning.
Weaning your baby
Weaning your baby off breast milk usually coincides with teething. This happens around the age of six months when the first 'bud' should start to come through.
While you'll still be feeding them milk for a time, the transition to solid food means your baby's teeth need a bit more attention.
Weaning isn't a quick process, and your baby should have all 20 milk teeth through by the time they're around two and a half.
How to care for your baby's teeth when weaning
Cleaning baby's teeth
When should you start to brush your baby's teeth? As soon as the first one appears! It doesn't need to be fully emerged either. It's important to brush the first signs of it.
Just as you've been used to giving your baby's gums a wipe after every feeding session, you should aim to clean your baby's new teeth twice a day – in the morning and last thing before bed.
You can use a thin smear of children's toothpaste (around 1,000ppm fluoride) on a soft nylon-bristled toothbrush with a small head. The packaging will state the intended age range.
Just like brushing adult teeth, you need to move the toothbrush in small, circular motions without pressing too hard. It's a good idea to check your baby's gums after to ensure there's no food remaining.
You might find the easiest way to brush your baby's teeth is to have them sat on your lap facing away from you. Also, remember to try and encourage them to spit the remaining toothpaste out. And not to wash their mouth with water after.
If your baby puts up a fight, why not try letting them brush their own teeth to help them get used to the feel? Of course, you'll need to help them brush their teeth. And, unfortunately, it's a good idea to do this until they're around seven!
Be careful of sore gums
Your little one will likely have some swollen gums where his or her teeth are coming through. Take extra care with these so as not to cause discomfort.
If your baby has pain, you can let them chew on cooked vegetables to ease it or a soft teething ring that's been in the fridge. Remember to keep a close eye on your baby when eating.
Protecting their teeth
Here are some more tips on how to look after your baby's teeth when weaning:
Check foods are sugar-free or no added sugar, and be aware that ingredients ending -ose (glucose, fructose, lactose) are all sugars!
Avoid giving your child fruit juices, cordials and squashes.
Don't let them sleep with a bottle as the tendency to suck from it during the night can lead to cavities.
Switch to a beaker from six months rather than a bottle.
Choose sugar-free medicines when needed.
You'll be able to spot if your baby's milk teeth are prone to cavities by watching out for discolouration (small brown or white spots) and pitting.
If your baby uses a dummy, it's best not to suck on it first before giving it to them as you could be transmitting cavity-causing bacteria!
When should I take my baby to the dentist?
We recommend bringing your baby along to your dental appointments at Number 18 as soon as you can. That way they can get used to the environment. But they should definitely be coming to see us by the time the first tooth comes through. We can make sure everything looks healthy, give you plenty of advice and answer any questions.
Need to book a dental checkup? Contact our Notting Hill dentist today.
Get in touch
To find out how we can help you call 0207 792 2333 or complete our enquiry form...