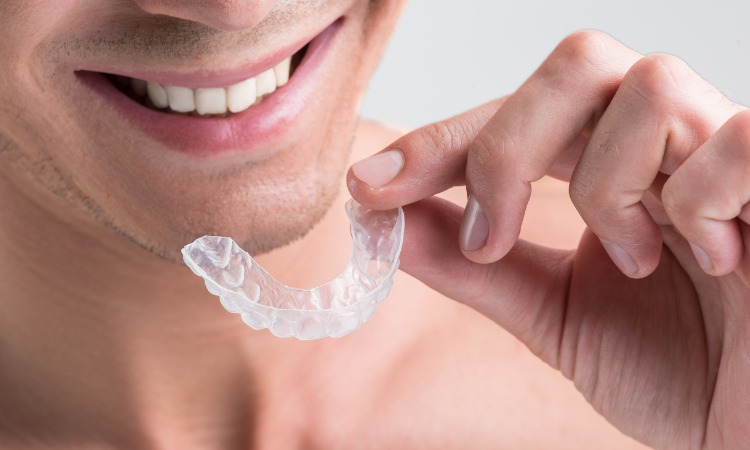 You may think that as an adult you've left the world of braces far behind. Or maybe you've always had niggling problems with your dental health and braces were never offered to you?
There's a myth that the only time you can benefit from braces is during your childhood or teenage years, or that you can't have braces if you've had dental work done.
While you do need to have fairly good dental hygiene, as the period during which you're wearing braces can make cleaning difficult, they can be used if you have fillings or crowns. The other thing you should know is that as an adult your treatment might take longer than as a child, but your dentist will discuss this with you.
Do you need braces?
Braces work to correct all kinds of dental complaints, including:
Crooked teeth
Overlapping teeth which cause food to become trapped
Bite problems which may cause discomfort when eating, jaw problems or teeth grinding
4 benefits of braces
The benefits of braces might seem obvious, but there's more to it:
Straighter teeth and a more symmetrical smile
Less overcrowding, making teeth easier to clean, leading to improved oral health
Gaps can be closed meaning prior damage to teeth can appear reduced
Correct the bite points where front and back teeth meet – this can mean less discomfort and strain on connected muscles
Types of adult braces available
Perhaps the idea of braces conjures up the playground taunting of a poor kid with a mouth full of metal. The good news is that braces have come a long way since then!
The better news is that as an adult, you get to choose the style that works best for you. In fact, these days braces can be more of a status symbol rather than a fashion faux pas. Here are the methods we use at Number 18:
This is the style most similar to the traditional style of 'train-track' braces you might be familiar with. If you are on a budget they do the job well, and instead of the metal appearance of yesteryear's braces they have transparent or enamel-coloured brackets to help them blend in. They need to be adjusted every 6 weeks and you'll usually wear them for around 18 months.
If you're looking for something a little less noticeable, Incognito™ Hidden Braces are affixed behind the teeth so that they're far less visible than ceramic brackets. They also come in a full set or a Lite version which corrects the front 6-8 teeth. You'll need to pop back every 6-8 weeks for adjustments and treatment can last from 9 to 18 months.
This barely visible and highly discrete aligner is a great way to straighten your teeth within 6-18 months without anyone noticing you're wearing braces, making it great for professionals. As it's an aligner and not a bonded brace, it will need to be changed every 2 weeks, so you'll need to be available for regular appointments.
This removable device is ideally used for correcting teeth misalignments, including protrusion, overcrowding and cross-bites. Like Invisalign, treatment should be finished within 18 months but you'll need to pop back to the surgery each 2-3 weeks to check your progress.
What does getting adult braces involve?
Treatment will depend upon the type of braces you choose and the extent of your dental problems.
However, all treatments begin with a consultation and then any x-rays will be taken which will show whether you'll need to have work done, such as an extraction, to get the desired results. Moulds will then be taken for your braces with a fitting and follow-up appointments scheduled.
Your dentist will discuss the best way to care for your braces and your teeth while wearing them. An important factor in deciding which braces are right for you is that food can get trapped in bonded braces, making brushing difficult, so aligners are often a preferred choice for this reason. Not to mention they interfere less with your appearance.
Get advice on adult braces
Not sure which style you prefer or even whether braces are for you? You can speak to our friendly dentists in confidence at Number 18 Dental. Get in touch today for impartial advice on getting adult braces in Notting Hill.
Get in touch
To find out how we can help you call 0207 792 2333 or complete our enquiry form...