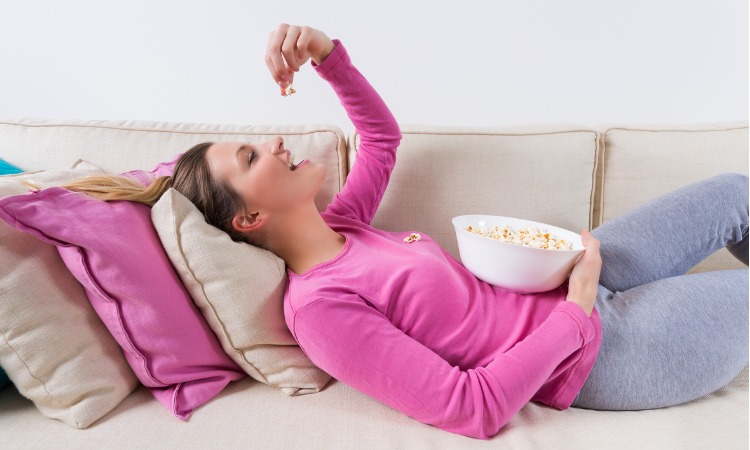 Ah January, the time we all commit to making healthier choices. For many of us, our weakness is crisps, but there's a new rival in the field – and it's meant to be healthier.
You've probably come across websites, bloggers and nutritionists raving about the low-fat value of popcorn and may have decided to stock up for guilt-free afternoon snacks. But unfortunately, there's a catch.
While plain popcorn can be a healthier choice for your waistline, it isn't always the best choice for your teeth. What's more, the rise of so-called posh popcorn (those luxury popcorn flavours you see lining farmers market stalls and supermarket aisles) can come with a higher price than the tag!
In fact, cases of broken and chipped teeth have increased as people ditch fatty crisps, meanwhile, popcorn sales have doubled in the past 5 years. This puts it ahead of the other main offenders when it comes to sweet-related dental problems, namely caramels, fudges and boiled sweets.
The problem is the un-popped kernels which can give your teeth a fright if you unknowingly bite down on them. They can cause a direct break or chip when your teeth slide against the squeaky surface of popcorn. And they can also get stuck in teeth leading to decay, gum disease or even an abscess if not dealt with.
Dr Mark Hughes, of the Harley Street Dental Group, told the Sunday Telegraph: "In my 25 years as a dentist, popcorn is easily among the top five reasons for broken teeth. Five years ago I would perhaps see one case of a broken tooth in twenty caused by popcorn but in the last two or three years, that has risen to one in ten and the number is only going up."
And we've certainly noticed our fair share here at Number 18 Dental too.
Unfortunately, the problems don't end there. Many luxury popcorn varieties now see the otherwise healthy snack coated in thick layers of sugar or seasonings. Not only does snacking on posh popcorn subject your teeth to the sugar, too much sugar and salt in our diets can lead to other health problems such as obesity, diabetes and high blood pressure.
So to be on the safe side? Stick to plain popcorn and eat with caution or keep it as a treat (not an afternoon staple!). An even better choice for your teeth, which is just as indulgent and delicious, is to snack on a thin wedge of brie, plain Greek yoghurt, strawberries or fresh apple slices.
Get in touch
To find out how we can help you call 0207 792 2333 or complete our enquiry form...