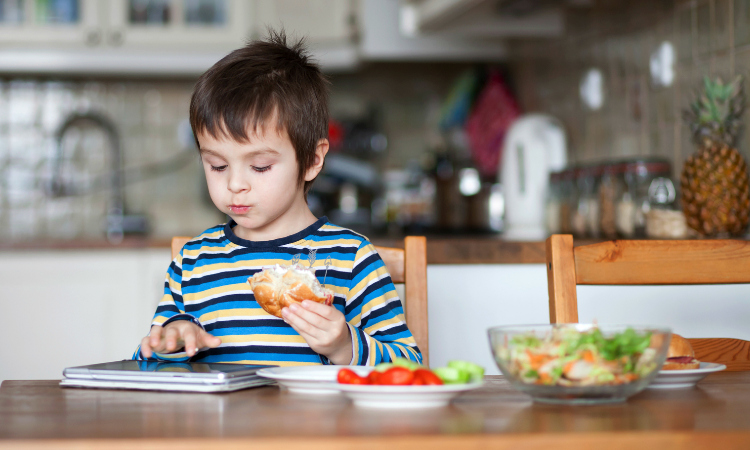 Recent research by Public Health England found that 31.2% of children aged 2 to 15 were classed as either overweight or obese.
September is Childhood Obesity Month and we want to highlight how what we eat affects more than just our teeth. With these fun and educational apps for children of all ages, you can help the whole family improve the way they think about food.
Little Monsters Yum Yum
Does your toddler know what they can and can't eat or what will make them big and strong? Little Yum Yum is this app's hungry monster that needs to be kept full with healthy foods. This app teaches very young children about nutrition and shows fussy eaters how to find healthy food fun.
Age: 2-5 Platform: Android, iPhone/iPad Cost: Free
Easy Eater 2
If your child won't believe that their favourite unhealthy snacks aren't good for them, challenge them to keep a pet healthy by feeding it the same foods they eat. Set in an enchanted forest, the magical characters in Easy Eater 2 also teach about the different food groups. And with grub bucks up for grabs, kids will be hooked with the chance to earn app accessories and even real rewards.
Age: 4-10 Platform: iPhone Cost: Free
Smash Your Food
Finally you can encourage your kids to play with their food! By 'smashing' up their favourite snacks in this app, they'll discover how much sugar, salt and oil are in their favourite foods and compare them to the recommended levels. It might just be eye-opening for parents too. And as they progress, kids can unlock more items from the fridge to smash up!
Age: 7+ Platform: iPad Cost: Free
Eat-And-Move-O-Matic
Eat-And-Move-O-Matic is an easy way to teach kids about calories. They can pick foods and see how much of an activity they'd have to do to work off those calories. This app encourages children to see food as fuel and highlights the consequences of eating too much of the wrong thing.
Age: 9-11 Platform: iPhone and iPad Cost: Free
Fooducate
Fooducate is a good way to guide your teen to a healthier lifestyle. They can easily scan the barcodes of their chosen snack, drink or food, see the app's nutrition rating for it, and even get healthier suggestions. Plus, Fooducate can monitor calorie intake and exercise.
Age: 11+ Platform: Android and iPhone/iPad/iPod Cost: Free
Kurbo Health Coaching
Kurbo is a weight loss app for families which doesn't follow a diet plan. It is based on research from top universities and helps kids make healthier decisions to shed excess weight by offering advice, setting goals and tracking their food choices. The recent update even syncs with Pokemon Go to log their hunting as exercise!
Age: 13+ Platform: Android and iPhone/iPad Cost: Free
Change 4 Life
Change 4 Life is a series of government-funded apps to help families and kids be healthier. You can download the Sugar Smart app, which scans barcodes and suggests healthier alternatives, get healthy recipes from Smart Recipes, and also receive everyday fitness ideas from Smart Restart and Fun Generator.
Age: All Platform: Android and iPhone/iPad/iPod Cost: Free
Get in touch
To find out how we can help you call 0207 792 2333 or complete our enquiry form...