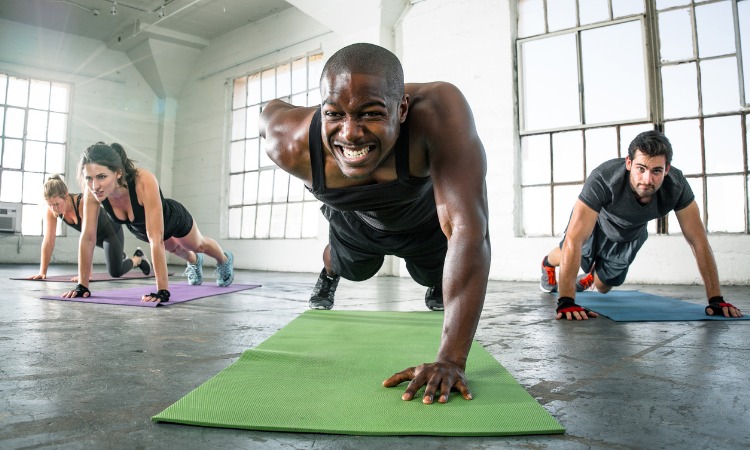 During spring we love nothing more than making some changes to the way we do things. Whether we get London Marathon fever and find ourselves determined to get in shape, or we simply try to cut back on sugar and carbs to fit into our holiday wardrobe.
But while that's great news for your health, it can have some unexpected consequences for your teeth. Here are a few things to keep an eye on…
1. Dry mouth
Researchers from University Hospital Heidelberg in Germany wanted to try and understand the link between cavities and exercise. They found that as people exercised their mouths produced less saliva and became much drier.
A dry mouth can do more harm than give you bad breath – it can create the right conditions for bacteria to multiply and eat away at your enamel. The participants' saliva also became more alkaline, which can lead to tartar build up. If you ensure you're drinking plenty of water while you work out, you can help prevent a dry mouth. Ordinary tap water is a great choice as it's fortified with fluoride. We recommend you stay away from diet pills too as these can cause the same problem.
2. Consuming more sugar
Unfortunately, spotting health foods on the supermarket shelves isn't always as easy as going off what the label says – you need to check the ingredients. There are lots of low-fat products which are actually brimming with added sugar! That isn't good for your teeth or your waistline.
The same goes for subsisting just on a diet rich in fruits. It might sound good in theory but around 12g of sugar (three teaspoons) can be found in a banana. While whole fruits are better for your teeth than smoothies, it's important that they only make up a portion of your diet – around two or three pieces. Avoid citrus fruits and opt for high-water fruits such as strawberries, kiwis and apples instead.
3. Falling prey to protein shakes
When you're working out, you're already prone to a dry mouth. But combine this with replacement energy and protein drinks (and snacks) during these times and it could lead to an increase in tooth decay. Many such products have lots of added sugar, and even if they are sugar free, fruity sports drinks could instead have additives such as citric acid which can contribute to enamel erosion just as much as sugar.
4. Bad breath
Bad breath isn't just a product of a dry mouth while exercising, it can be a side effect of being on a low or no-carb diet or a ketogenic diet. The smell is somewhat similar to acetone (or nail varnish remover!) and is caused by ketosis – when you start burning fat instead of carbs for fuel.
You can get rid of this problem by drinking water, chewing sugar-free gum and rinsing with alcohol-free mouthwash. However, while it's a great move for your dental health to cut down on starchy foods, it's not recommended to keep up a keto diet long term as it can lead to other conditions.
5. Depleted minerals
Trying to cut back on meal sizes and snacking is a great thing if you need to shed some pounds. But if you're trying to skip meals or cut out entire food groups you might be unintentionally depleting your minerals, and you could even end up malnourished.
The effects of malnourishment can be as severe as softened enamel, gum disease and a weakened jawbone. Keep your mouth healthy by ensuring you get enough calories each day and lots of calcium and vitamin D from foods like dairy, eggs, leafy greens and oily fish.
Wondering how to ensure your new healthy lifestyle doesn't impact your dental health? Book an appointment with our Notting Hill dental hygienist.
Get in touch
To find out how we can help you call 0207 792 2333 or complete our enquiry form...